Welcome to the Program in Linguistics at Penn State!
GIVING TUESDAY 2023 OPPORTUNITY! If you want to support linguistics students in research and study abroad opportunities, please consider doing so by giving or sharing our Giving Tuesday link:

https://give.communityfunded.com/o/annual-giving/i/givingtuesday-2023/s/linguistics-program
The study of language as a structural, cognitive, historical, and cultural phenomenon is a pursuit that cuts across many different academic disciplines. Our program offers majors and minors at the doctoral and undergraduate levels designed for students in any major field.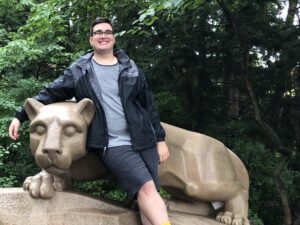 Vincent, Class of 2023, is in the Schreyer Honors college, majoring in Linguistics with a minor in Political Science.  He is conducting research with Dr. Deborah Morton on grammatical aspects of the West African language Anii.  He recently presented his work through a poster at the Linguistics Society of America's annual meeting in Denver, CO in January 2022.
He says: "I absolutely love linguistics because it is taking something we take for granted and really putting it under the spotlight.  Language is something we all have in common, yet don't think about that much.  Being able to study it is truly amazing.  I hope to go on to graduate school and continue my studies and research."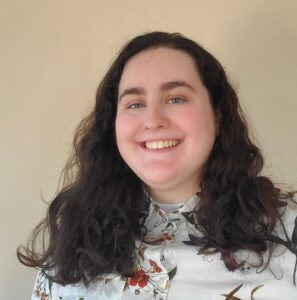 Felicity, class of 2024, is a double major in Linguistics and World Language Education (German option), and a French minor.  They were a research fellow with the PIRE program through the Center for Language Science, and were awarded the French department's Rising Star award.  When they graduate, they hope to teach German or English as a second language, ideally abroad.
They say: "I have always had a fascination with learning languages and understanding how language works.  Because language is so deeply embedded in human life, I think it is a constantly rewarding precess to learn how and why it functions.  In the future, I am hoping to teach German and/or English as a second language at the secondary level--ideally abroad!"
Linguistics is the scientific study of language. Linguists are not interested in changing language or language use. Nor are they necessarily translators or polyglots (though many linguists do speak multiple languages). Linguists are scientists who seek to understand human language in all its complexity, including structural (grammatical), cultural, and cognitive phenomena.